When most of the world is going stir-crazy due to COVID and there is so much negativity around, I thought of refreshing some good old travel memories. I am starting with one of my favorite National parks in the US, Death Valley. Don't get apprehensive. Even though the name of the park is Death Valley, its myriad yet diverse beautiful sights fill joy in your life.
Death Valley is a desert valley in the California state of the United States. It is one of the hottest places on earth. It holds the world record for hottest air temperature, 134-degree Fahrenheit (57 degree Celsius). It is the driest place in the United States. It gets that distinction by having the lowest average annual rainfall of any place in the country, less than two inches per year. Some years, there is no rain at all. I am not going into the details about its history or things to do or fun facts, there is already a lot available on the internet. Especially when it comes to things to do, I believe everyone has their own interests and choices. Hence, I just want to share my experience. I urge you to stay positive and invite you travel virtually with me.
I visited Death Valley with my friends in January 2019. Being one of the hottest places, people recommend travelling there in winter. We drove from Las Vegas, Nevada to Death Valley, California. It was an easy two-hour drive. We reached there by 3:00 pm and even before we were at the park entrance our eyes went wide open. It was just 'Wow'. Think of it as a heavenly place where not even a single person is visible, miles away. We could click photographs standing right in the middle of the road.
We had one and a half day to cover the major points in the park based on our online research and some friend's recommendation. So, we headed to our first destination, Badwater Basin, which is the heart of the valley. It is 282 feet below sea level and is the lowest point in North America. Sodium Chloride, better known as table salt, makes up the majority of salts on the Basin. On the way we passed Sand Dunes at Mesquite flats and stopped at Harmony Borax Works. We reached Badwater Basin around 4:30 pm as we took our sweet time to drive and enjoy the park's beauty. Parking lot was crowded at the Basin, with some people arriving and some returning. The basin was vast. We started walking towards the salt flats, the more and more we walked, the more salt flats we could see. We kept walking until we reached a point full of salt flats, meaning completely white ground.
BadWater Basin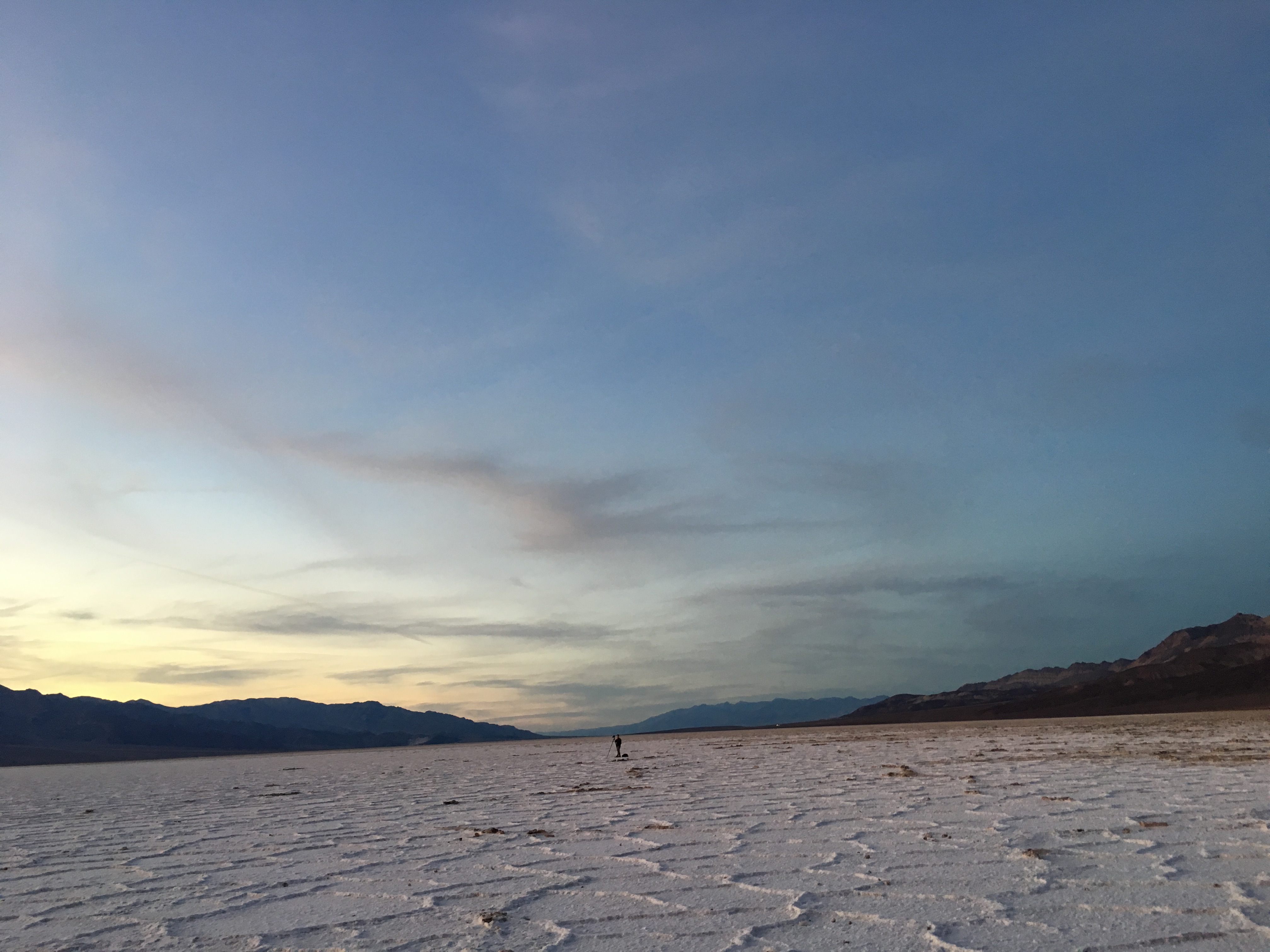 It was so surreal and divine that we fell in love with it. It was something we had never seen before. We watched the sunset and chatted with a photographer who was there to capture the night sky. He informed us the next day was the Lunar Eclipse, and he had specifically planned his trip around that. It's amazing to see how people plan their trips so zealously, when all we in IT think of is travelling on a long weekend and getting good deals. We embraced the place for a while and headed back after it got dark. After checking in our hotel (The Ranch) and finishing our dinner, we headed to Harmony Borax Works to see the night sky. The moon was full and bright, so we could not see a lot of stars, but I noticed two bright eyes looking straight in the direction we were standing.
'What is that?' I whispered.
'Cayote, immediately get inside the car,' my friends reacted.
We hopped inside our car. Cayote was standing approximately thirty feet away from us, and we watched it silently coming towards us. We used our flashlight to look at him but did not utter a word. It came fifteen feet closer before walking in the opposite direction from us. Soon it disappeared in the dark and we heaved a sigh of relief. What an adventurous end to the day!!
The next day, we got up early to see the sunrise. Some people suggest Zabriskie point for the sunrise and some suggest Dantes view. We chose Dantes View. It was a little farther, so we started early but could not reach on time. Sun was already up and we missed the sunrise by a few minutes. However, the views from this place were mesmerizing. The valley was gigantic, and we realized it now. The Badwater Basin, which looked huge the day before, looked tiny today.
Dantes View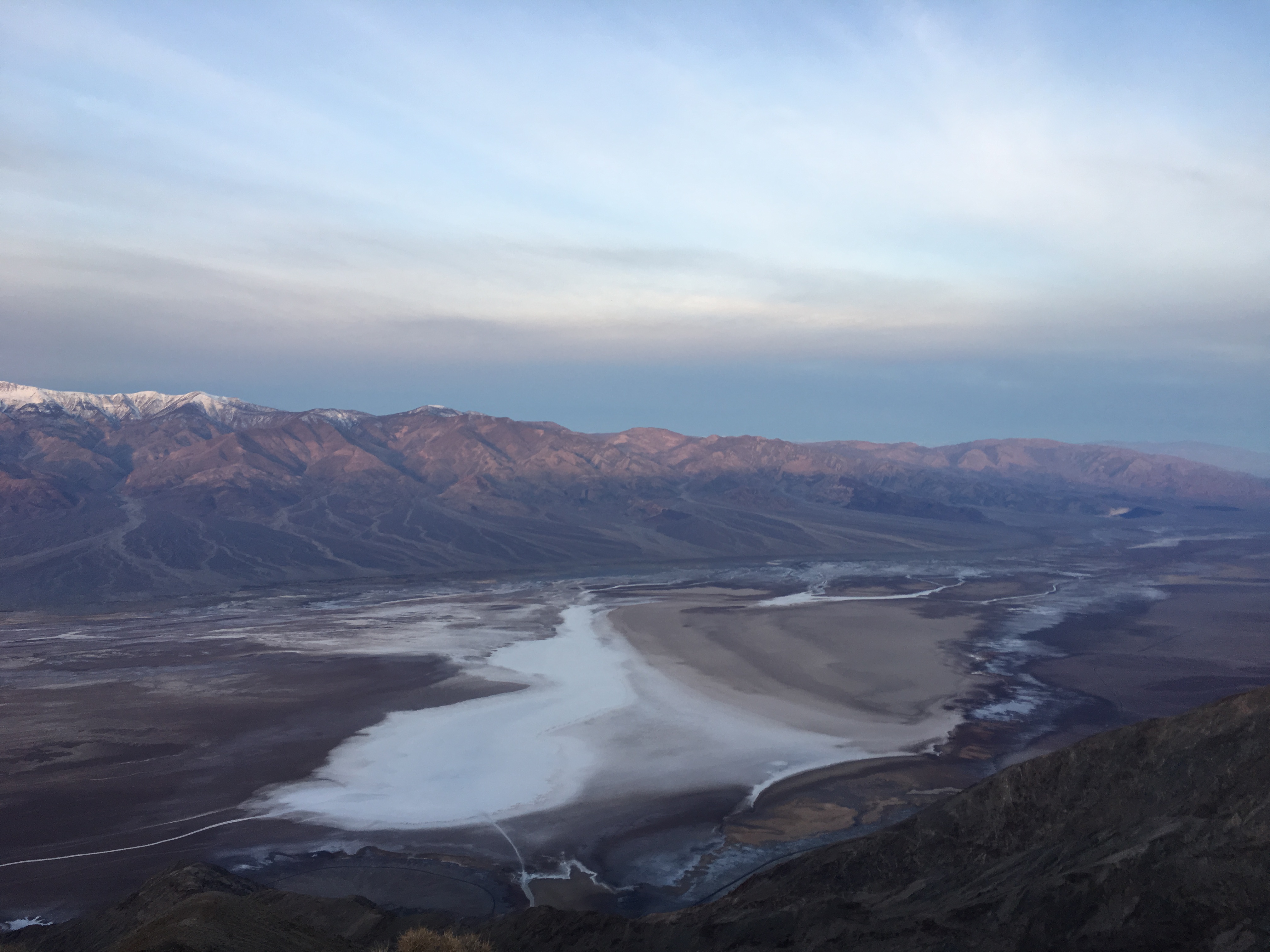 It was windy, and we were freezing even after wearing triple layers of clothes. Thanks to the huge boulder for sheltering us from the mighty winds and severe cold and allowing us to enjoy the pristine beauty beneath for some time. On the way back to our hotel, we entered the 20 Mule Team Canyon, totally unplanned and hiked for some time. Once again, spellbinding views. The massiveness of the colorful mountains transformed the Recreational Vehicle (RV) parked on the road into its miniature version. Spectacular, isn't it?
20 Mule Team Canyon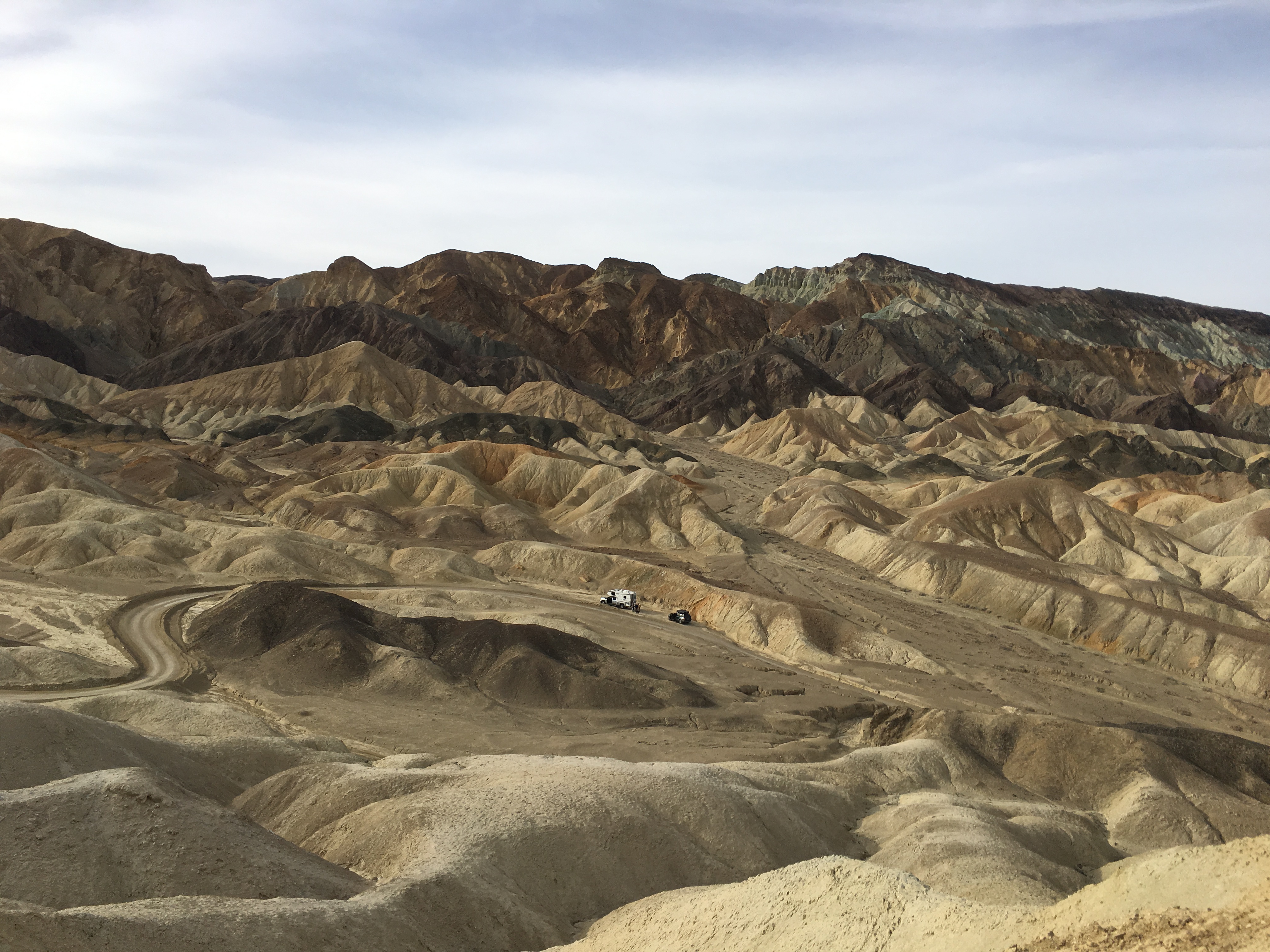 Next, we stopped at the Zabriskie point before heading for lunch or I should say brunch. A quick stop at the Furnace Creek Visitor Center to know more about the park and to get a souvenir to cherish the memories of the valley was a must.
Zabriskie point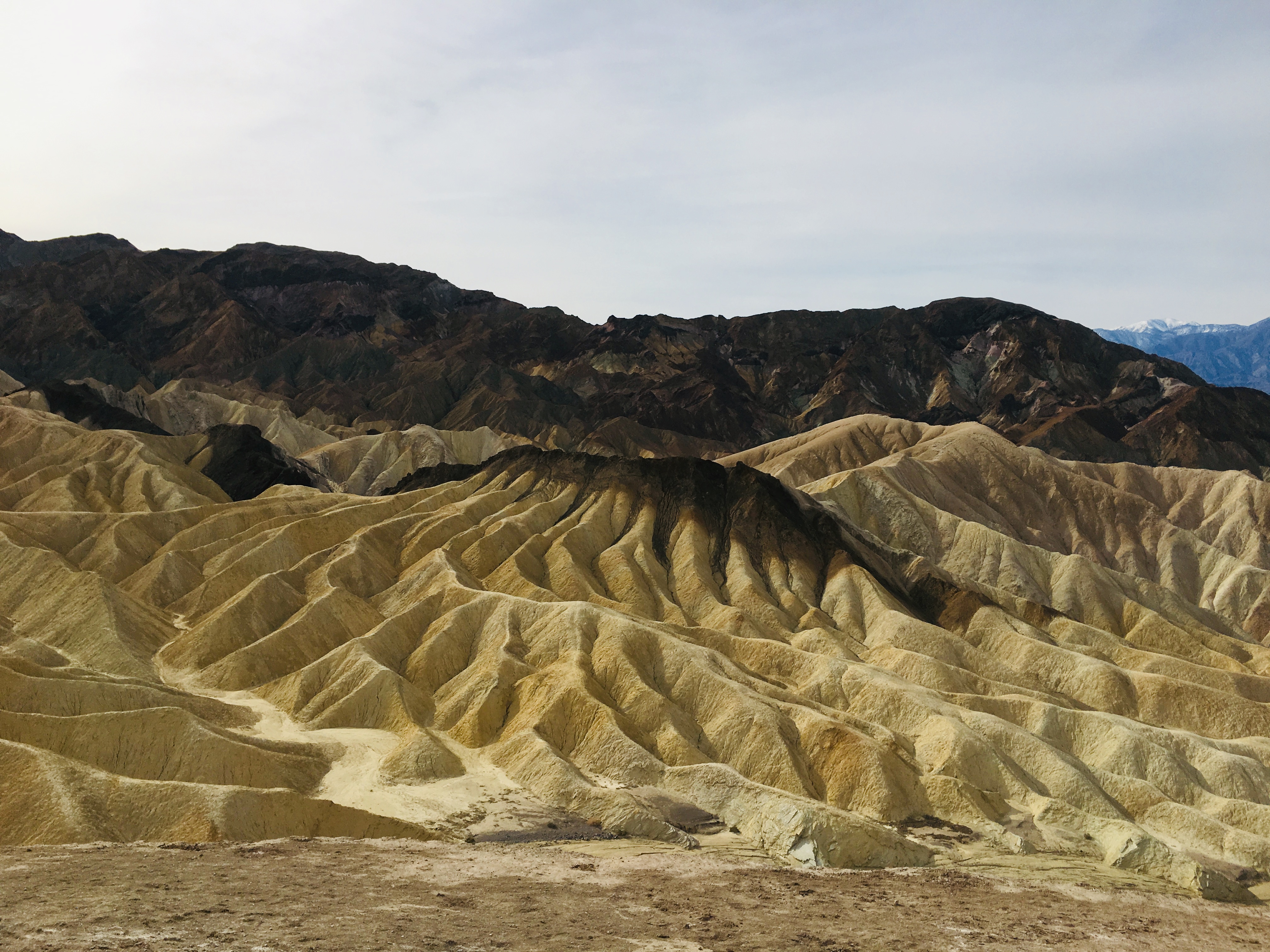 After the lunch we covered the Artists Drive, clicked some photographs, witnessed a painter painting live and did some hiking at Golden Canyon Trail before heading over to the Sand Dunes at Mesquite flats for sunset and the night sky.
Artist Drive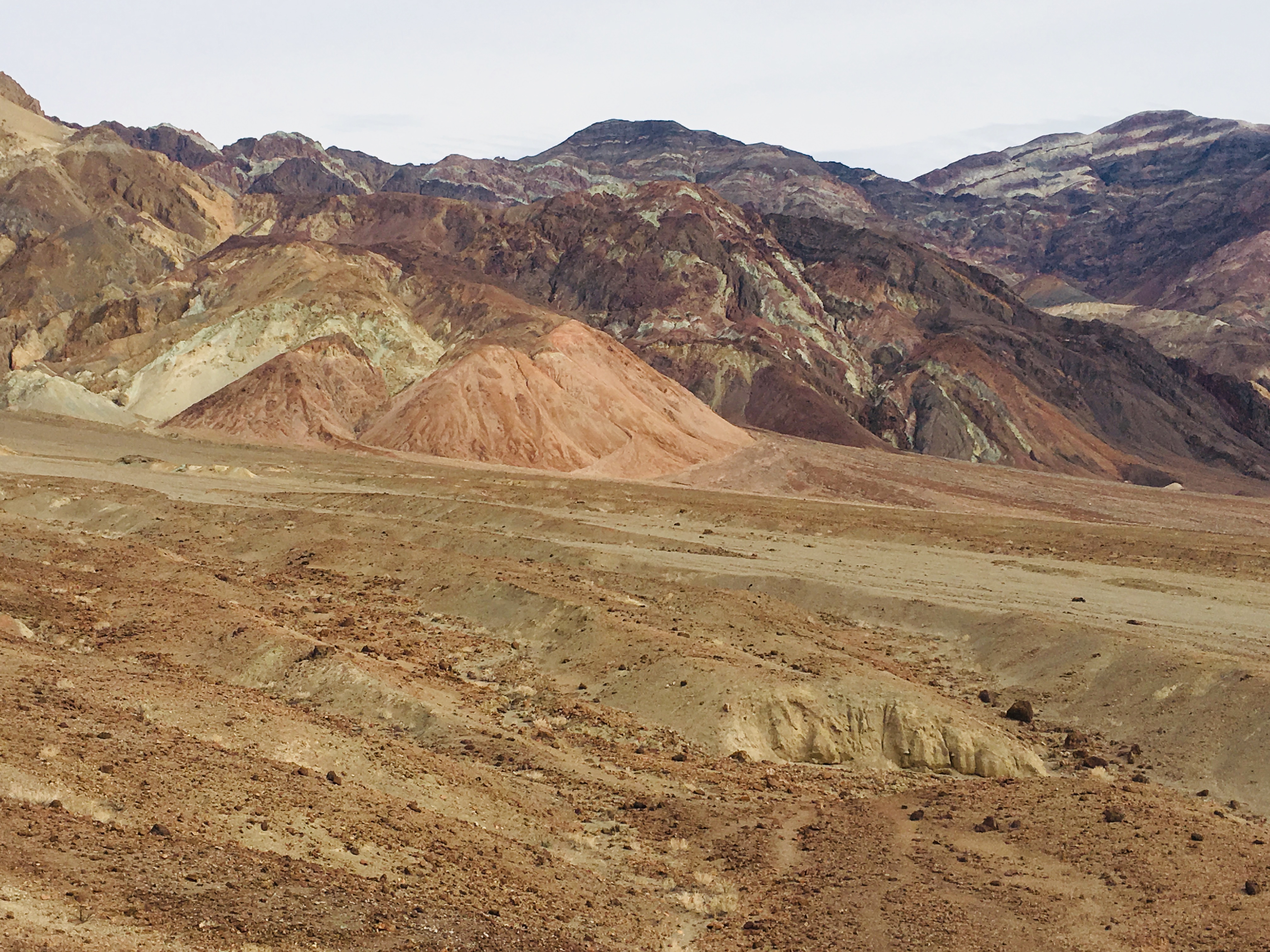 Artist Drive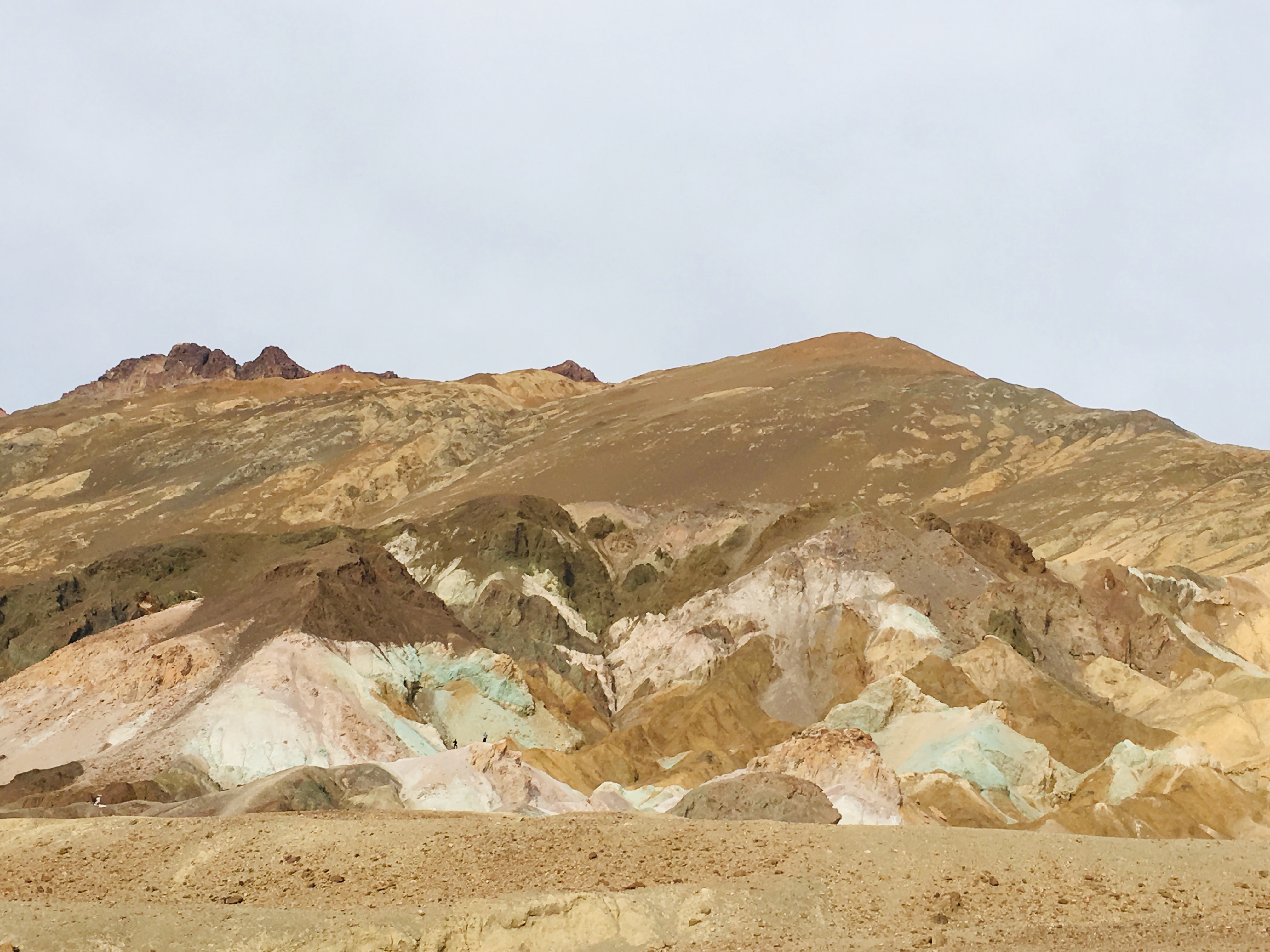 Golden Canyon Trail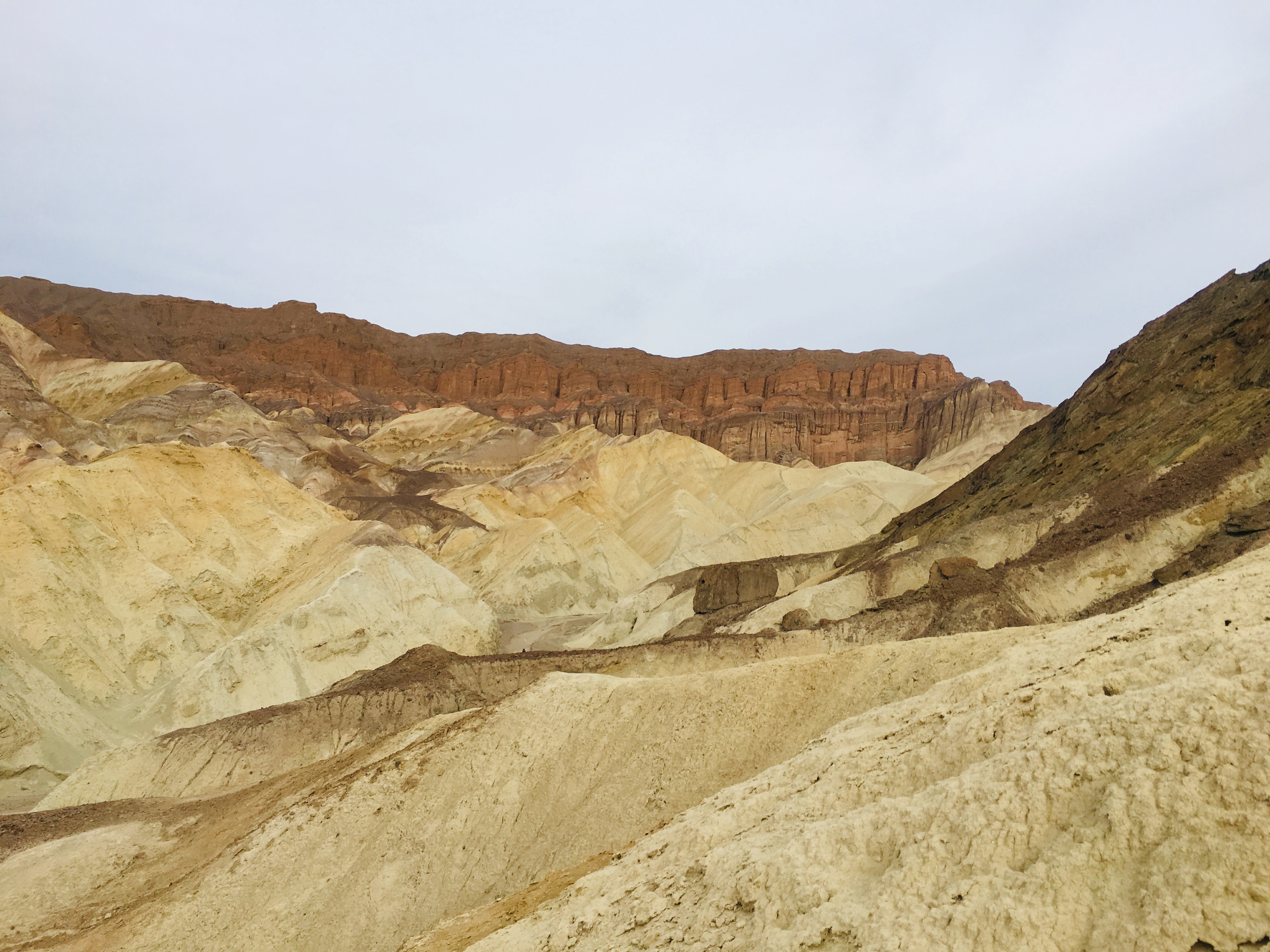 We reached the Sand Dunes around 4.30 pm and started walking towards the farthest Dune, which had no footprints.
Sand Dunes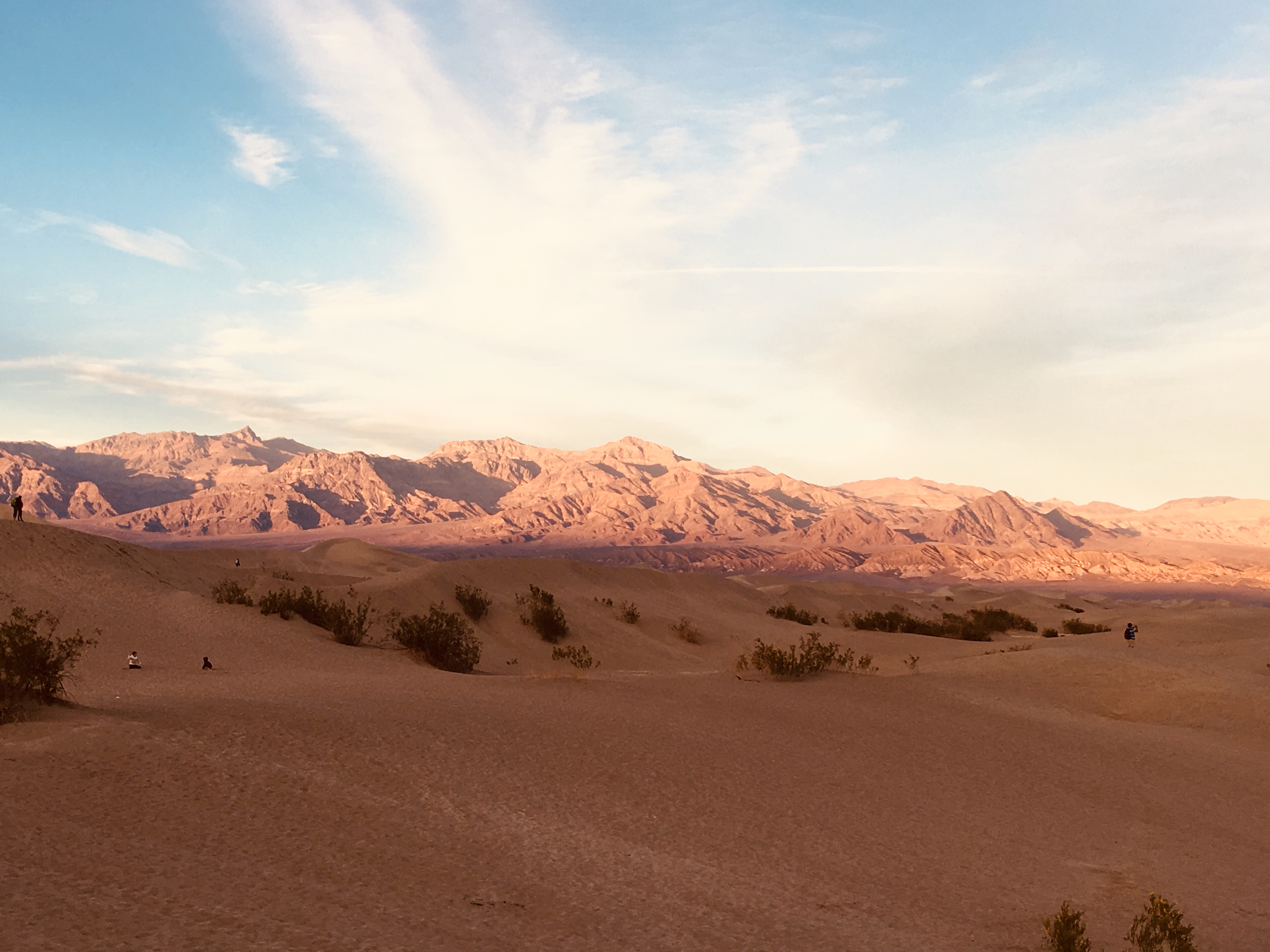 It was the day of a Total Lunar eclipse, and we wanted to be farther away from the people. We wanted to witness the eclipse and the night sky in silence and solitude. Passing numerous Sand Dunes, we reached the dune of our choice. The Sun had already set, and it was almost dark. We sat down and started waiting for the eclipse to begin. The Moon seemed big and almost close enough to touch. It was fascinating, but we were freezing, especially me. I was literally whining about the cold, even in that serene place. We were only wearing a jacket when we should have layered up for the night or at least should have carried some warm clothes. Today when I think about it, I wish I could have enjoyed that moment more than grumbling, but I didn't. The eclipse started around 7:30 pm and it was complete around 9:00 pm allowing millions of stars to be visible in the sky. We also noticed two light beams, one coming from the suburban area of Los Angeles and another one from Las Vegas. It enthralled us. Viewing countless stars and some fabled constellations was a lifetime experience. We headed back after sometime using the flashlight and compass for directions.
The next day we headed back home and used a different but beautiful route. All in all, we had a wonderful trip. Each and every point in the park had breathtaking views. Variations at the valley starting from the BadWater Basin to Artist Drive to Sand Dunes were rejuvenating and mesmerizing. Listening to the 'Music of the Valleys' while driving worked as an icing on the cake.
I am at a loss of words for this wonderful valley. Every time, I visit any place similar to this; I wonder what a beautiful planet we live on and we should be thankful for having this life. I am not sure if the photographs from my mobile did any justice to this place, but believe me it's an amazing place for everyone to visit and I will definitely go there again.
A few suggestions:
Avoid visiting this place in summer, it's too hot.
Try visiting near the new moon day if you are a night sky fan. We landed there at the wrong time, but luckily the photographer informed us about the Lunar Eclipse.
Do not forget to use a compass in the Sand Dunes for returning to the parking lot at night. You might get lost.
Happy reading!!
Dated: Jun 30, 2020