This is my second blog in 'Stay positive and travel virtually,' series.
Lassen is a volcanic national park in northeastern California. Established in 1916, it is the fifteenth national park recognized by the US government. I visited Lassen for the first time in September 2017. It was an impromptu trip planned by my friends especially for me. They had already seen this place multiple times. Today, even I have visited it many times, but my first trip will always remain special. I call that trip my introduction to the National parks and hiking. Before this, I had only visited two national parks and that too a long time ago. Hiking was just a term for me, and I often confused it with trekking. I had literally heard people bragging about their hiking trips. I used to think it might be a difficult thing to do. But after my experience I realized it's like walking on an uneven path and there are three types of difficulty levels–easy, moderate and strenuous. I agree, strenuous is hard but the other two are normal and easy hike is like a daily walk but in the middle of the beautiful nature and paths are even paved most of the times. You can simply choose the hike you want to do based on your capability. It will still be called a hike.
It was approximately a three-hour drive, but very beautiful towards the last forty to fifty minutes after we took the exit from the freeway. As soon as we entered the park from the north entrance, we stopped to see the spectacular views at Manzanita Lake and Lily pond. The clarity of the water at the pond was mesmerizing (photograph above). The reflection of the Lassen peak (right side) was breathtaking.
The hushed landscape of the park is rich in volcanic features. It is one of the few places on earth to possess all four types of volcanoes–Shield, Composite, Cinder Cone, and Plug Dome. Lassen peak is the world's largest plug dome volcanoes. We drove through the majestic mountains and hushed forests, still lakes and buzzing meadows to reach the Bumpass Hell.
Bumpass Hell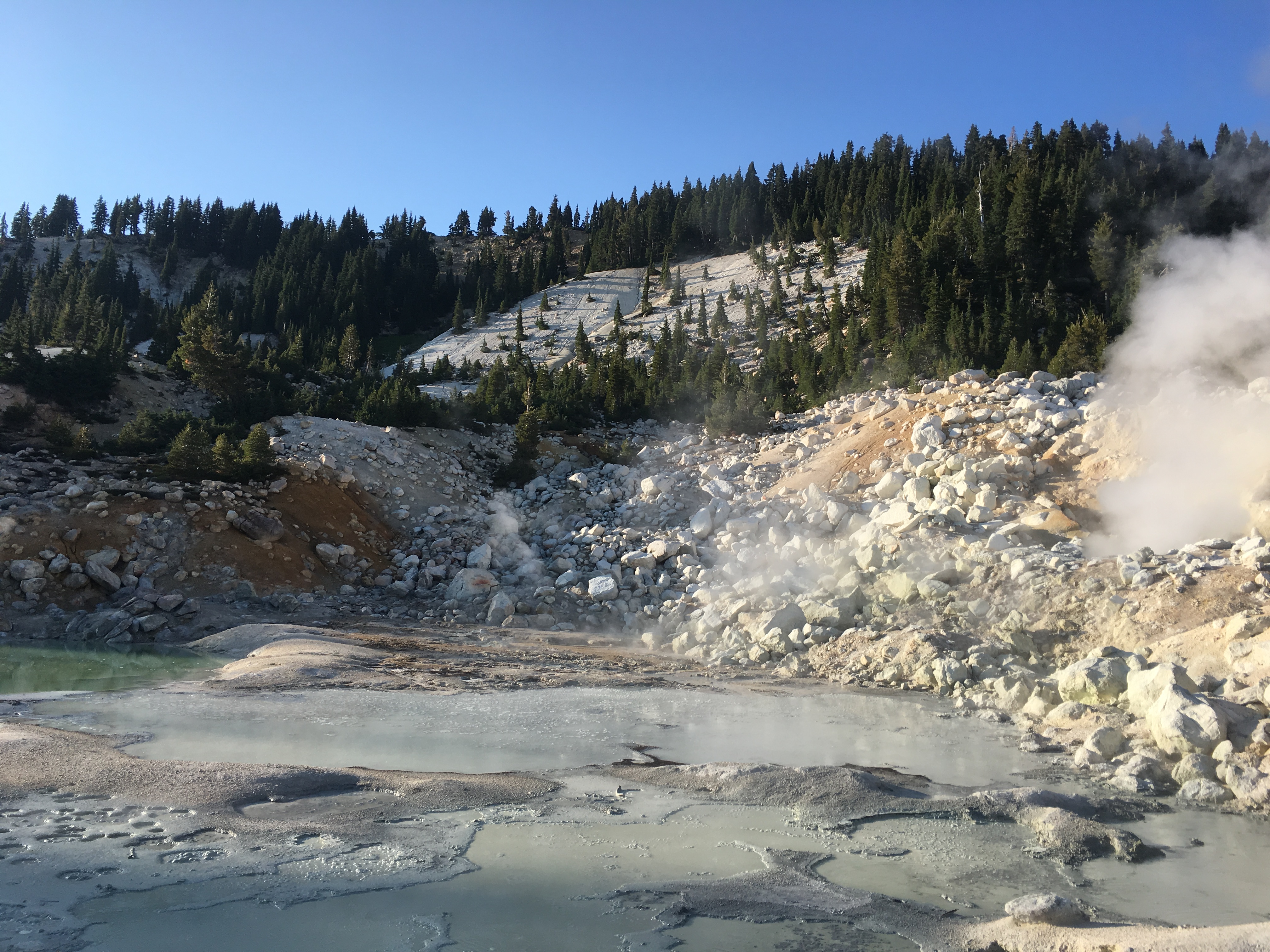 It is the park's largest and most popular hydrothermal area. I would say the trip to the park is incomplete without visiting this place. The core of our planet has always amazed me, especially the process behind earthquakes, movement of tectonic plates, volcanoes, magma, molten rocks, to name a few.
The round-trip distance of the trail is approximately three miles and is of moderate difficulty level. Geologists believe that this place sits atop magma six miles below us. This searing rock turns groundwater into steam that bubbles up through mud, creating a dangerous hazard. Don't get frightened by the name of the trail 'Bumpass Hell', Kendall Bumpass was a guide, who burned himself severely on one of his tours, when the crust beneath his foot suddenly broke, plunging his leg into the boiling mud beneath.
Traversing through the rocky slope of Bumpass Mountain, taking multiple water breaks, and relaxing our feet from the pain caused by hitting the small rocks, we reached the hydrothermal area basin which had a wooden boardwalk. We saw numerous hissing fumaroles and bubbling mud pots that mesmerized us. Imagine walking on a boardwalk alongside bubbling pits of mud and hissing cracks in the earth. Witnessing rising steam from the boiling pools, with the smell of sulfur filling the air. That's exactly what it was.
Boardwalk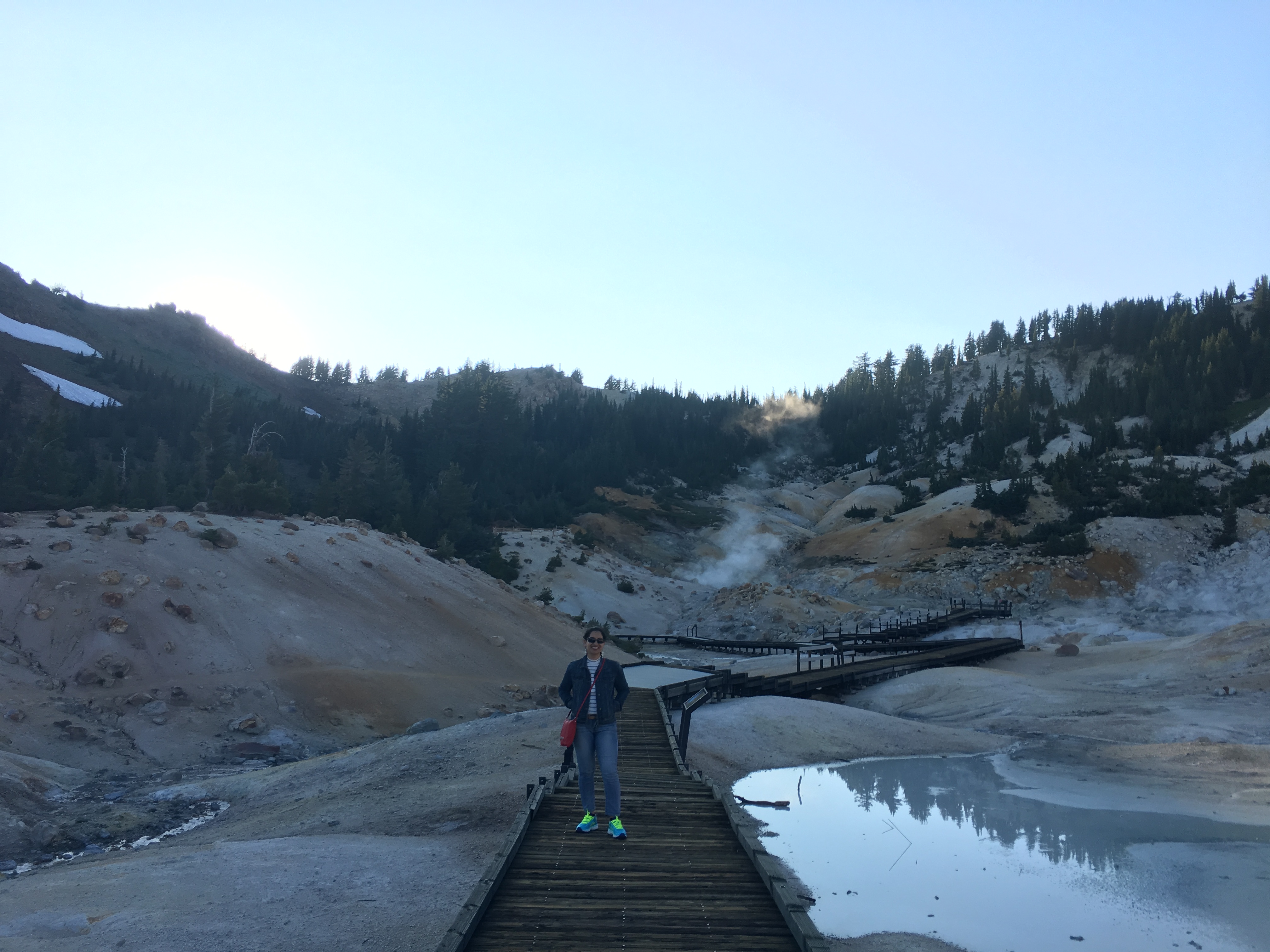 Magnificent, isn't it? The sulfur smell irritated us in the beginning, but we got used to it after some time. We spent some time on the boardwalk, clicked some photographs and returned to the parking lot.
It was getting dark, so we headed to the hotel but stopped at Emerald lake to have a quick glance. As soon as we went near the lake our eyes went wide open. Not because of the beauty of the lake but because of a Deer family - male, female and two fawns just fifty feet away from us. We stood there quietly to see them walking from one side of the lake to the opposite side. The fawns were jumping around with immense energy, while the mother was calm. This was a rare sighting, and we got lucky. None of us had ever seen a fawn before. This stop was definitely an icing on the cake.
The next day, we entered the park from the South entrance and went to see the Sulphur Works hydrothermal area to get the closest view in the park of bubbling mud pots and hissing steam vents. A stop at the Kohm Yah-mah-nee visitor center to buy souvenirs was a must. The plan was to head home after having lunch at the visitor center, but one of my friends found a trail to the falls behind the visitor center and everyone decided to hike. It was a hot day, and we started walking towards the falls. I, being a novice at hiking, did not have any hiking shoes, rather I should say I had not even heard about them and was wearing my brand-new light-blue colored tennis shoes. Initially, the trail had some shade because of the trees, but later it was super-hot with no trees. We walked, walked and walked, but the falls were nowhere to be seen. We were sweating badly. After taking multiple water breaks and walking 1.6 miles in the scorching heat we reached the Mill Creek Falls.
'We walked so far in this burning heat for this? Are you kidding me?' I immediately reacted.
Mill Creek Falls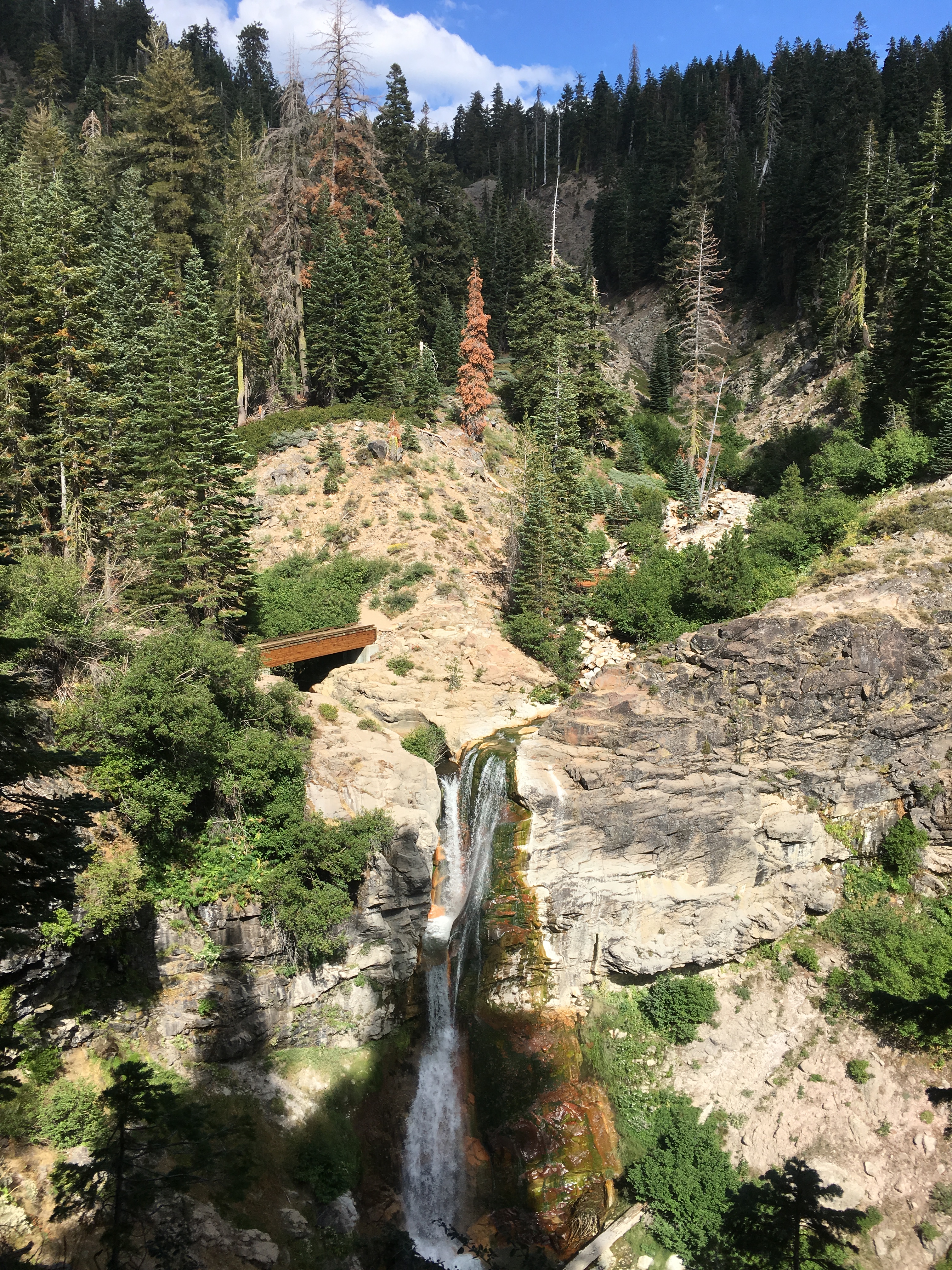 I was mad at my friends for taking an impromptu decision to hike, but they didn't react. They liked it and enjoyed the falls and the harmony of the nature. I calmed down in a while and started enjoying the beauty of the forest and the falls. The falls were almost dry because of the summer heat. It was time to go back when a passerby informed us of a lake ahead. My friends got super exited, but it upset me. I was tired, and we had a long drive back home. I wanted to return but could not. We walked forward, but I was continuously whining and urging them to return. No one heard, but instead they walked fast to avoid me and even before I could notice they were out of my sight. I stood alone in the forest, not knowing my next steps. With no cellphone signal, I was nervous about getting lost; I was anxious about witnessing any dangerous animal and so much more. Thinking and walking and waking and thinking, I started crying. Yes, I literally cried that day. Today I laugh at my reaction, but that day I was worried. I walked fast, as fast as I could. Still no sight of my friends. I could see no one else on the trail. Have I lost my way? What should I do? How will my friends find me if I am on the wrong trail? What if I encounter an animal? Numerous thoughts crossed my mind. After walking for around fifteen minutes, I saw a glimpse of one of my friends on a turn. I walked faster to confirm. I walked and ran, ran and walked and finally heaved a sigh of relief when I could see all of them clearly. Being experienced hikers, they were way ahead of me, but now I knew I was on the right path. I kept walking at my pace and they slowed down a little after looking at me. I met them after sometime when they stopped at the Conard Meadows and we walked together to the Crumbaugh lake. I won't say the lake was breathtaking, but it was pleasant and peaceful.
Crumbaugh Lake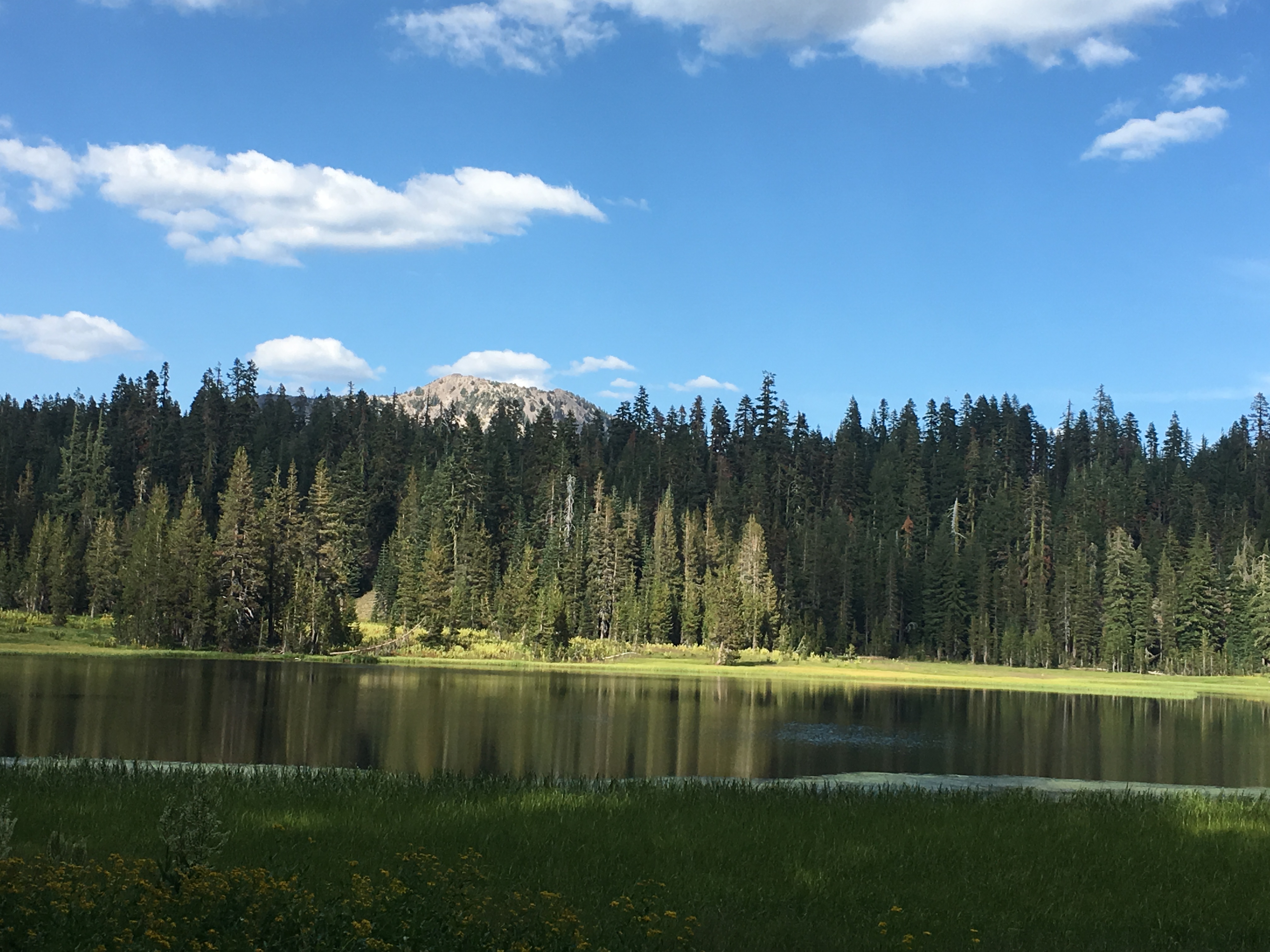 We headed back after a while and completed the trail around 6:30 pm. After looking at the trailhead kiosk, we realized instead of hiking 1.6 miles one way; we had actually hiked 3.4 miles one way. The light-blue color of my tennis shoes had turned blueish grey because of the mud but I was happy to sit inside the car and head back. Phew, what a day!
Overall, my first hiking experience was wonderful with only a few hiccups. I lost consciousness of my separate existence, blended with the landscape and became part of the nature.
One of the other major trails we left on my first trip was the Cinder Cone, which was always on my mind, and I got a chance to visit it recently. This time we planned a day trip. We knew it would be tiring, with a long drive of around four hours and a strenuous four-mile hike but we had to get out of the house during lockdown and this was a safe bet with expectedly a few people and wider trail to keep a six feet distance.
Cinder Cone are made up of loose volcanic rock, cinders and ash that accumulate around a single vent. The cones rise sharp and steep, some with craters at their tops, into which we see circular hollows.
It was a little outside the park area and we reached in the afternoon around 2:00 pm. To our displeasure, the parking lot was full. Not because the trail was packed, but because many people were there to enjoy the lake right in front of the lot. Escaping from the people, we started the hike. For the first 1.2 miles the sandy trail was normal, surrounded by lush green pines and the dark Fantastic Lava Beds. But we mostly walked on the uneven area outside the trail to stay away from the people, though it was tiring. To keep away from people we had to cover almost 1.7 miles instead of 1.2 miles. Seriously, what a dreadful time we are living in right now, which I am sure no one will ever forget. The trail steepened from the base of the Cinder Cone. I must say it was hard, and the heat added to the enervation. Just imagine climbing on a fifty-degree angled slope in a hundred-degree Fahrenheit heat. Here also we kept our distance, either walking ten feet ahead or behind others.
Cinder Cone Base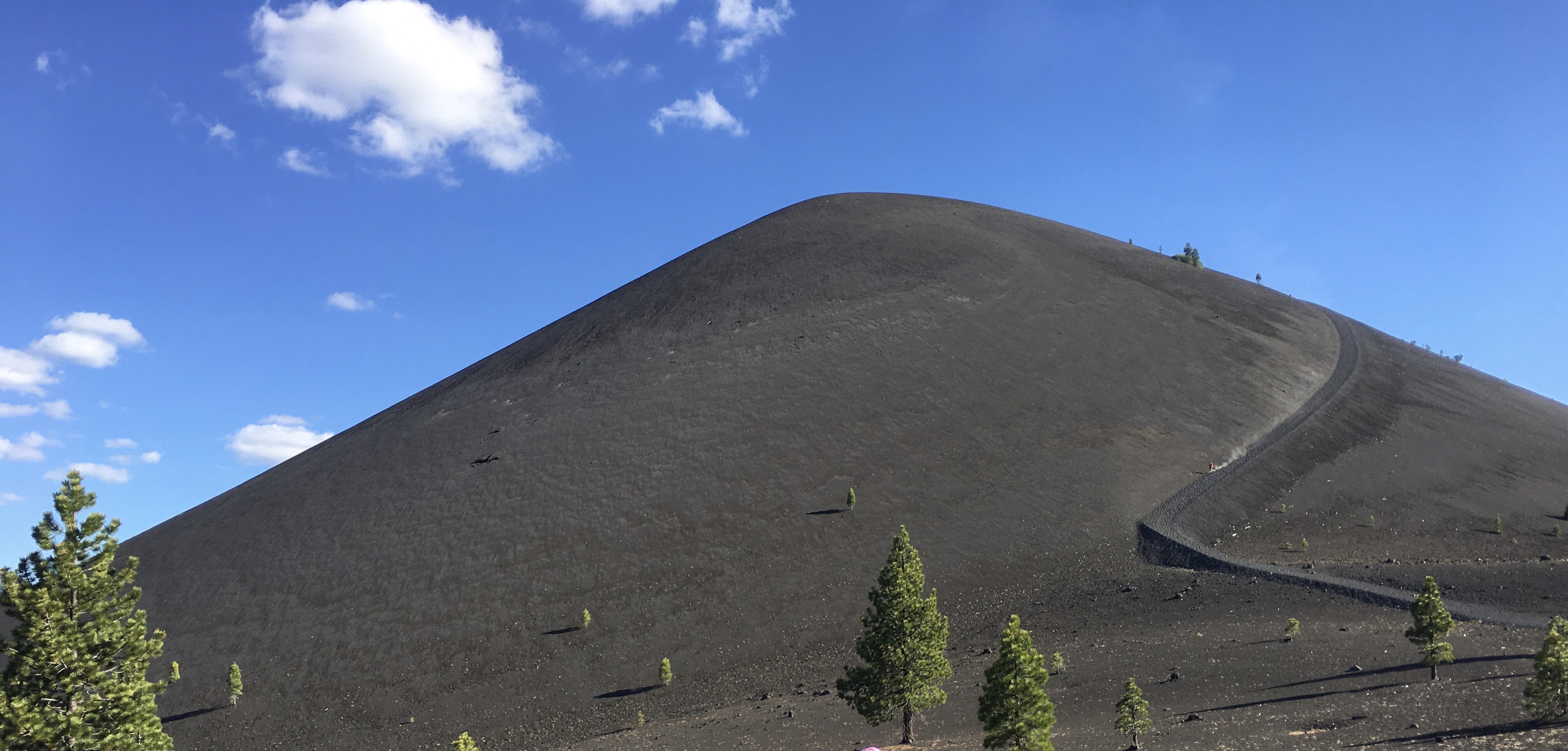 We were exhausted when we reached the top after the heart-pumping climb, but the cool breeze and the astonishing views re-energized us. We could see the Lassen peak, the Fantastic Lava beds and the Painted Dunes along with some other peaks and lakes. We were super excited to see the cone's crater which had another trail going down to the bottom of the cone but were worn out to do that.
Cinder Cone Crater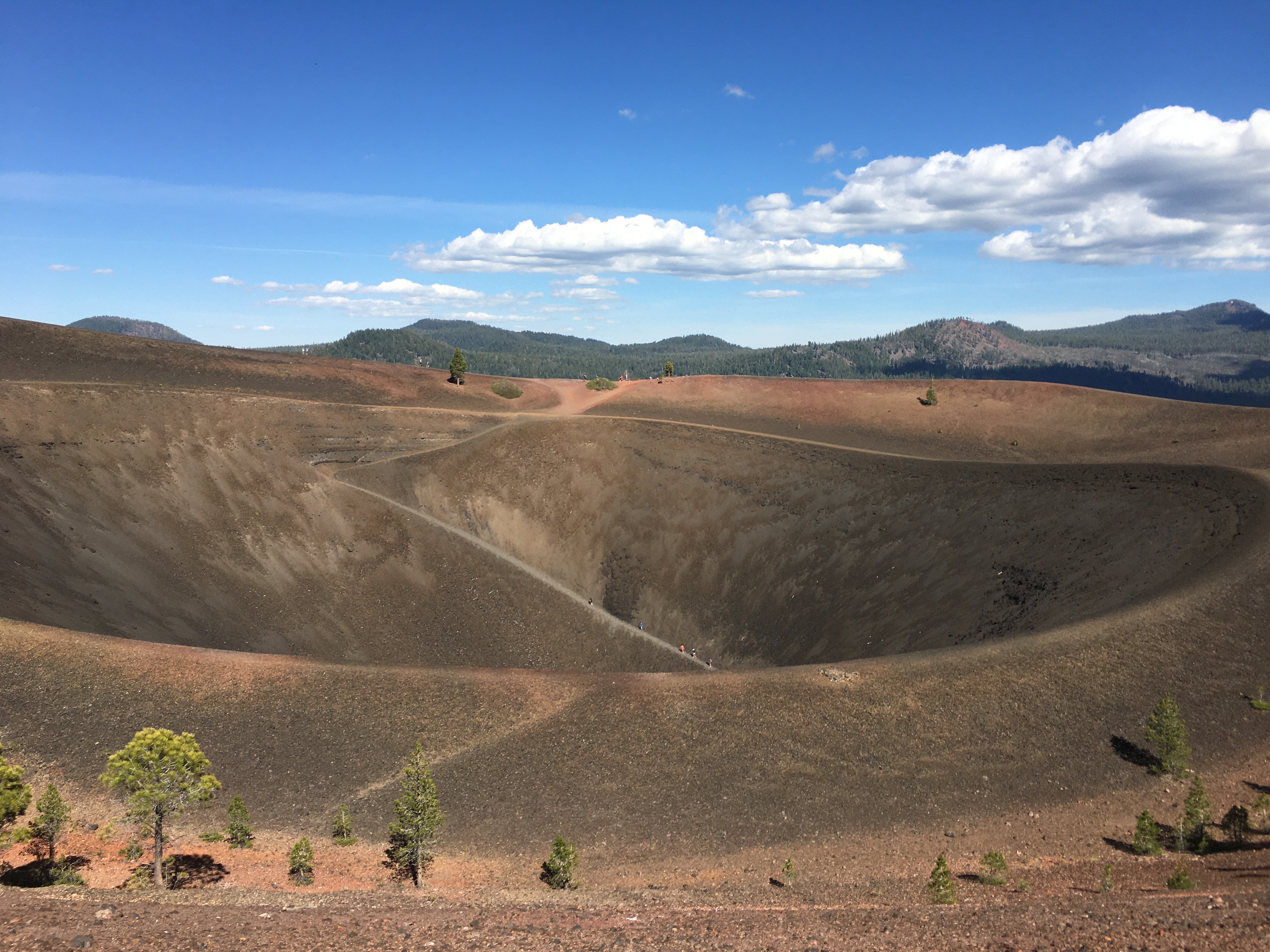 We walked around the crater, enjoyed the views, took some photographs and headed back after spending some quality time. Coming down was easy and fast. After the hike, we headed home. However, this was not the end of our trip.
On the way back, maybe after a one-and-a-half-hour drive, we noticed some cars parked in an open lot far from the city. It was almost dark, so we could not see clearly what's happening. Out of curiosity, we took a U-turn and reached the lot. We noticed several people standing by their cars to maintain the distance, had their telescopes set up, and were waiting for the complete darkness to enjoy the star gazing.
'Is there anything special today?' One of my friends asked.
'Don't know.' We all replied.
My friend immediately googled and found that the Neowise comet is visible the whole month, and maybe they were there to see the comet. We also parked and waited for the sky to get dark. It was a new moon day and was really breathtaking to see the comet and its tail with the naked eye. We used our binoculars to get a closer look. We also saw Milky Way, Saturn, Jupiter, Mars, and Mercury along with so many other constellations. It was simply marvelous. Truly a perfect end to the trip. We reached home late, but no one cared. We had an amazing day and I would recommend everyone with an interest in the Volcanoes to visit this magnificent national park.
Happy reading!!
Dated: Aug 10, 2020